The Company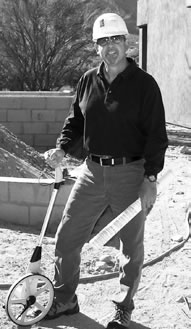 W. Grant Parker, PCAM®, CMCA®, CAAM® is the President and Owner of Design Review Administrators, LLC. He founded the company in June of 2005 in Tucson, Arizona.
Grant is a Member of the Community Associations Institute and holds nearly every major credential conferred by (CAI). He is also a Member of the Southern Arizona Homebuilders Association (SAHBA) where he serves on the Custom Home Builders Council. And, he is a Member of the Arizona Association of Community Managers (AACM), the single most influential organization of HOA practitioners in the state.
A trained and seasoned practitioner in the HOA industry, Grant has collaborated with developers, elected boards and architectural committees in Virginia, Colorado and Arizona, in some of the most prestigious communities in the U.S. They include:
BRANDERMILL, a master-planned, lake front community in Richmond, VA and a consistent annual entry in the 100 Best Planned Communities in America.
THE PRESERVE at GREENWOOD VILLAGE, a custom-home community of 500 homes on 1 acre lots in Denver, CO. with prices ranging from 2 million to 6 million dollars. This community was awarded the coveted Community Association of the Year award by the Community Associations Institute for the state of Colorado.
CHERRY HILLS PARK, one of the most sought-after estate home communities in the western United States, where each luxury home makes a lasting statement with its own gated entry monument and prices topping out at 12 million dollars.
CASTLE PINES VILLAGE, a premier golf course community just south of Denver, engaged Grant's services to completely re-vamp their architectural procedures, in the wake of a difficult development transition in the late-nineties. This consulting assignment involved more than 6 months of "deconstructing and reconstructing" governing documents, design standards and construction regulations, in a successful effort to clarify and streamline their entire design review process.
DESIGN REVIEW ADMINISTRATORS has the training, the experience and the knowledge you deserve for your design review and construction compliance process. We have client communities in the Tortolitas, the Catalinas, the Tucson Range and Dove Mountain, AZ. How can we be of service to you?
---
"Our committee adapted to Grant's methods with no problem. We are appreciative of the sense of confidence that items are being addressed by Grant. It is so great to have him as part of our team."
Jill Rosenbaum – Chairperson, La Reserve Architectural Committee / Oro Valley, AZ